As recently as two years ago, Milwaukee was a city that was home to only some beer gardens. Pretty embarrassing, right? It seems like it's been a lifetime since that comparably lean epoch of outdoor imbibing hampered the city. Last summer's introduction of Bay View-based Humboldt Park Beer Garden and Hubbard Park Beer Garden in Shorewood doubled the count of park-placed purveyors of summer suds in metro Milwaukee. Sprecher's Traveling Beer Garden also hit the road for the first time last year, setting up shop at a mass of public parks in a variety of neighborhoods every weekend. It not only returned in 2015, it added even more tour stops.
With Milwaukee area residents not getting any less thirsty, and the concept of drinking outside (whether in a park or on a patio) never going out of style, the city welcomed yet another place to get shitfaced under the sun, just like Mother Nature intended it. Last Wednesday, the ribbon was cut and South Shore Terrace in—take a guess!—South Shore Park officially opened for business after a brief-but-intense exterior renovation of the historic Bay View park's pavilion. Reportedly funded by MillerCoors to the tune of half a million dollars, Milwaukee's latest beer garden could be construed as a private business throwing money at a public resource to sort-of open a business along the city's virtually off limits waterfront. Hey, or maybe it's just the latest in a growing line of relaxing places to drink outdoors.
The space: The Miller connection isn't exactly subtle. Even before crossing the threshold into the terrace, eyes are immediately drawn to the brewing behemoth's logo scattered in a number of directions and sight lines, including a sizable red and white "Miller 1855" sign strategically mounted just above the stool-free "bar" where orders are placed and 12 MillerCoors-owned beers (well, 10 beers and two ciders) are on tap. A freshly painted Miller mural on the terrace's southwest wall instantly vies for customer attention. As obvious as the macrobrewer makes its presence, there's simply no South Shore Terrace without Miller's financing, so who would dare bite the hand that pours?
Excluding the liberal logo placement, a grouping of more than 30 thin picnic tables are arranged in five rows, and two fire pits offer a dash of warmth and personality to the fairly utilitarian location that leans largely on the bay—and on clear days, the lake beyond—for an aesthetic boost. As far as beer gardens go, South Shore Terrace's decor is more detailed than most. Set along a trail, some athletes stopped in to cool down (in both senses of the word) and negate part of their workout with a post-run libation. Parents sipped wine in relative comfort, having liberated their children from strollers and wagons to walk around in the three-quarters enclosure.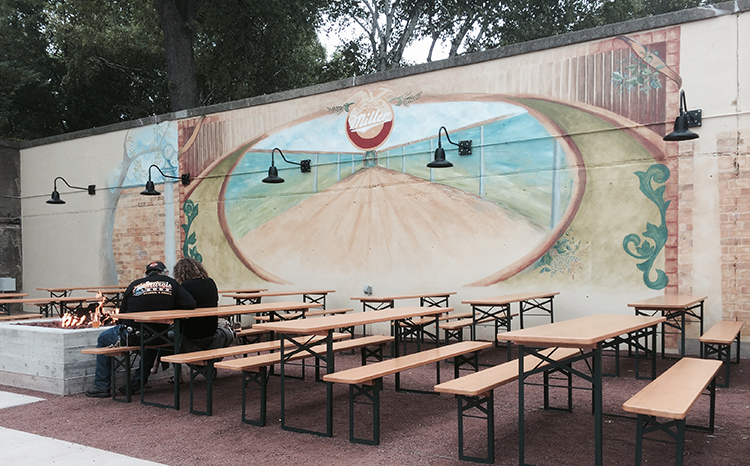 The service: Upon our third consecutive day attempting to visit the new Milwaukee County Park amenity, we finally picked the correct identically overcast late summer evening to find it open. Perhaps figuring curiosity would still bring customers out on the brisk late August night, they were incredibly well staffed for a 12-tap bar whose food options maxed out in both price and complexity with the warm pretzel ($4). As we placed our order with the woman (of the four employees on hand) who stood closest to the cash register, the others listened in and sprung into action right away. We received our food and our pint before we could even put our change in our wallet. Come the next warm weekend afternoon, they'll be ready for any rush.
Milwaukee Record's food/drink: Not particularly sold on the appeal of "Sharable Nibbles" ($2), which are basically plastic bags filled with trail mix in sweet or savory bits of carbohydrates and protein, we went as big as the four-item food menu would allow. The warm pretzel and honey mustard dipping sauce was nothing special, but as far as pre-made beer pairings go in a county park, it's hard to conjure a better concession. We could, however, think of myriad beverages we'd rather have than the Blue Moon Harvest Pumpkin Ale ($6.50) we selected—we shit you not—because it was the most exotic option not made by Leinenkugel's we saw. Though $6.50 for the "Premium" pint of liquid nutmeg sounds steep, we were glad to learn that the price includes a pint glass emblazoned with the Milwaukee County Parks logo and, of course, more Miller branding. If used again, it knocks $1 off the price of any beer. If Blue Moon or its autumn seasonal (also) aren't your thing, you might prefer a domestic pint ($4.50, $3.50 refill) of Miller Lite, Coors Light or High Life; a standard pint ($5.50, $4.50 refill) of Leine's Red or Redd's Apple Ale or Blue Moon IPA; or other premiums such as Crispin Cider, Pilsner Urquell or a seasonal option of Leine's Milwaukee-brewed Big Big Eddy series. Liter mugs are on hand, ranging between $7 and $10. There's also wine of an unspecified-and-likely-boxed variety for $6.50.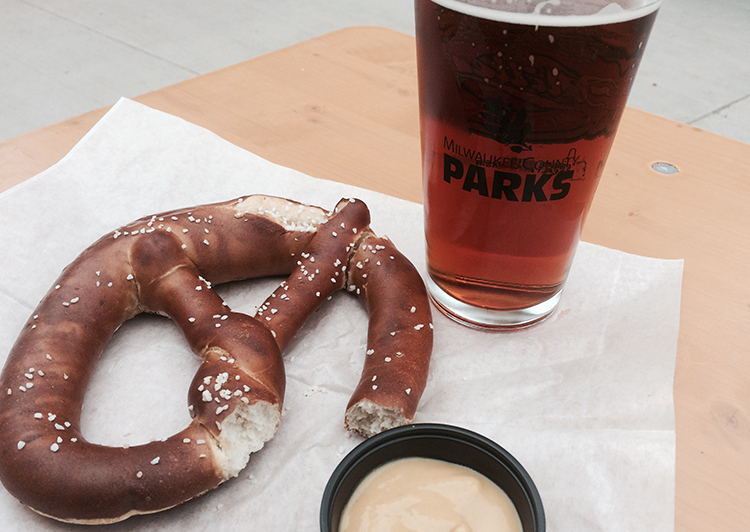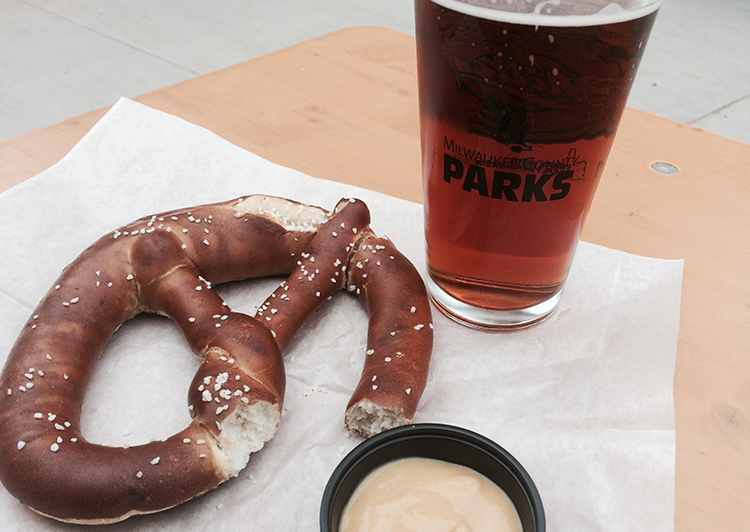 The verdict: Setting aside all minor qualms regarding the Miller-mandated selection, South Shore Terrace is the definition of an amenity. It's something not every city boasts that's already adding even more appeal to one of the county's finest public parks. Though South Shore Terrace is just the latest place to grab a happy hour High Life in Bay View, none of its predecessors can beat the view.