After a month of competition in our Wisconsin Cities Bracket, we finally have a winner. And that winning Badger State locale is…Rhinelander! The northern Wisconsin city that's known best for its Hodag beat Menasha in the Final Round to earn the lofty title of "Wisconsin's Best City," as well as an award and a visit from Milwaukee Record (which will temporarily become "Rhinelander Record" for one day of Rhinelander-specific coverage at some point in 2023).
While each of the 63 other competing cities fought hard, it's clear Rhinelander and its citizens simply wanted it more. Rhinelander received more votes than any other city. En route to earning the title, Rhinelander bested Bayfield, messed up Minocqua, felled Chippewa Falls, was superior to Superior, mauled Madison, and mashed Menasha. They earned it.
Over the course of the month-long tournament that spanned six rounds, close to 310,000 votes were cast. There were some fun rivalries that readers played up on social media, there was growing awareness and appreciation for some oft-overlooked Wisconsin places, and there was a great deal of local love.
Congrats to Rhinelander for taking the title. Thanks to all who voted, shared the bracket, and took an interest in this bit of Wisconsin-focused randomness. We'd also like to extend an extra special thank you to Lakefront Brewery for sponsoring the tournament. Though we won't delve into the Wisconsin Cities realm again, you can likely expect to another Wisconsin-themed bracket from us this summer.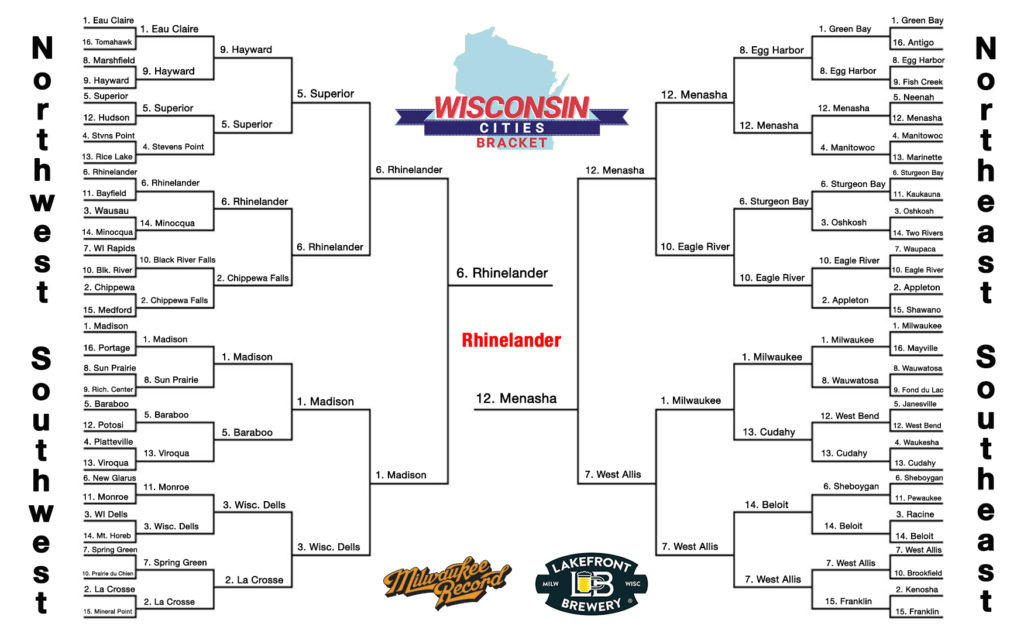 Exclusive articles, podcasts, and more. Support Milwaukee Record on Patreon.