On Saturday, October 14, the Bay View blocks at the intersection of Wentworth and Potter Avenues between Cactus Club and Goodkind, as well as the interior and patio of Palomino, will offer an autumnal mix of baking contests, a pumpkin patch, live entertainment, local vendors, on-site food, craft beer, and specialty cocktails. The second annual Beet Street Harvest Festival—a collaboration between Goodkind, Palomino, and Cactus Club—will brighten up what looks to be an otherwise dreary day in the neighborhood between noon and 6 p.m., and Milwaukee Record (an official sponsor) couldn't be more excited.
Given the event's relatively short history and the abundance of components involved with the sprawling block party, we could understand how potential attendees might be a little confused about what they're to expect. In effort to get you up to speed and entice more of you to join in on the fun that's planned for Saturday (rain or shine!), we'll detail everything you need to know about this year's Beet Street Harvest Festival.
Who's playing again?
A lot has changed since with the entertainment lineup since our initial announcement. A broken leg forced Dogs In Ecstasy to cancel, but the wonderful gents in Paper Holland will pinch hit and are sure to delight after the Girls Rock alumnus in Gas Station Sushi start the day off strong. Beet Street would have been a very pregnant Jessica Hernandez's last show for a while, but she unfortunately had to cancel this week. Fortunately, the Milwaukee garage rockers in Fox Face will play in her stead, a few weeks before the release of their Dirtnap Records full-length, Spoil + Destroy.
(In the case of rain, music will be moved inside Cactus Club. The show will go on!)
Outside (acts listed opener to headliner)
1 p.m. — Gas Station Sushi
2 p.m. — Paper Holland
3 p.m. — (Pie contest results and pie-eating contest)
4 p.m. — Fox Face
5 p.m. — Milo
(DJ David Arnevik all day)
Cactus Club After Party (21+, $10)
Oozing Wound
Population Control
Kia Rap Princess
Sex Scenes
(Platinum Boys DJ)
What kind of food can I expect?
You bet your ass there's going to be food. Goodkind will sell sandwiches outside. Palomino's stand will sell festival fare as well. Honeypie's "Snack Wagon" will make the few-block journey to sell brownies, cookies, and both sweet and savory pies. If a more substantial meal is preferred, Palomino will be open to offer its regular full-menu service, too. Here's what's available.
What's to drink?
So much stuff. Internationally-regarded mixologist Katie Rose and her Goodkind team have created a special batch of craft cocktails made with Skyy Vodka and Four Roses Bourbon. Moreover, there will be Loon Juice Cider, Wollersheim Winery dry riesling and pinot noir, and beer from Solemn Oath and Pabst breweries. Oh, and Palomino, Goodkind, and Cactus Club will have full bar service inside. Here's what will be on hand.
Beet Street Mule: Four Roses Yellow Label Bourbon or Skyy Vodka with Goodkind Ginger Beer and Lime
Potter Avenue Paloma: Espolon Silver Tequila with Grapefruit and Spiced Rosemary Citrus Cordial
Superior Street Scarlet Punch: Skyy Vodka with Rishi Scarlet Tea, Cinnamon Syrup, and Citrus
Wentworth Avenue Wassail: Hot Apple Cider with Barrel Aged Brandy and Mulling Spices
Solemn Oath Beer List

Goodkind
Big Pern (Bourbon Barrel Aged Belgian Brown)
Butterfly Flashmob (Belgian IPA)
Cactus Club
Snaggletooth 12 oz Cans (American IPA)
Lü 12 oz Cans (Kölsch)
Kidnapped By Vikings 16 oz Cans (American IPA)
Palomino
Kidnapped By Vikings (American IPA)
Ravaged By Vikings (American Double IPA)
Death By Viking (American Imperial IPA)
Beet Street Trailer
Kiddnaped By Vikings (American IPA)
Lü (Kölsch)
Old Faithorn (American Pale Ale)
Oktöberface (Märzen)
What if I don't drink?
That's cool. Just don't be all preachy about it. Organizers actually made sure to have a wealth of non-alcoholic offerings on hand. The aforementioned Goodkind Ginger Beer can be ordered on its own. Valentine Coffee Roasters will be there to perk people up. Of course, the trio of affiliated bars also have the sodas, juices, and mocktails they serve up all year long available inside.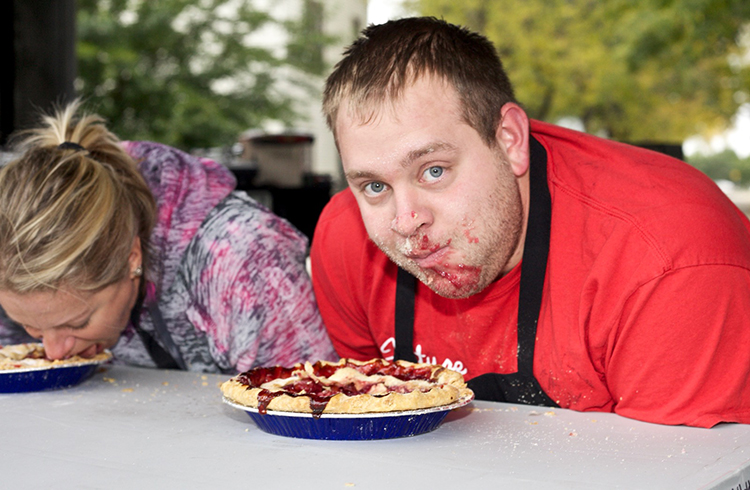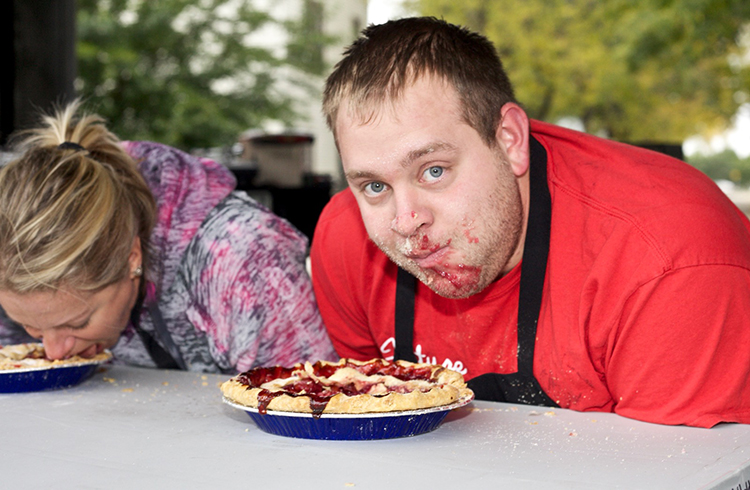 Tell me more about these pie events.
Palomino/Honeypie owner Valerie Lucks is a pie expert. She literally teaches pie classes. Throughout the morning, Palomino will be the site of The Great Midwestern Pie Championship, and pre-heated contest where amateurs and pie professionals alike will have their work judged as they vie for sweets supremacy, a Honeypie gift certificate, and an extravagant ribbon. The "Best In Show" winner will take home $100. The Pie Championship winners will be named on stage. Then, the stage will open up for a pie-eating contest in which competitors will engage in a hands-free race to eat an entire pie. Rest assured, people who witnessed last year's never-ending struggle. The pies will be smaller this time around.
And this is a benefit?
Uh, kind of. Obviously, the businesses involved need to recoup their costs for stage and Port-O-John rentals, staffing, among other expenses, but there's also at least a slightly philanthropic bent to the event. Proceeds from carnival games will go to Girls Rock Milwaukee and Growing Power. On top of that, slice sales from the pie contest participant desserts will also be given to Growing Power. For the planet's benefit, Beet Street is striving to limit waste by serving food and drinks in compostable containers.
Who are the vendors?
It wouldn't be a Bay View block party if there weren't a wealth of vendors on hand to sell their art and handmade goods. Adding to the impressive cast of makers and businesses that will be on hand, Wentworth Avenue will also host a variety of excellent locally-focused organizations like Compost Crusader, Milwaukee Area Science Advocates, Kompost Kids, Girls Rock Milwaukee, Growing Power, and Black And Pink: Milwaukee. Here's who's scheduled to be there.
Healium Hot Yoga
Cream City Canning
Growing Power
Victory Garden Initiative
Wollersheim Winery
Specter
Milwaukee Area Science Advocates
Compost Crusader
Cassaday
Aerolithia Jewelry
Pumpkin Pavilion
Kompost Kids
Hometown Sausage Kitchen
Grafton Stone Mill
Lone Duck Farm
Girls Rock Milwaukee
Centgraf Farms
Keghaznavi Illustration
Distinctive Designs by Tomira
Country Silk Soap And Gifts
BroadMade
Rep Wisconsin Apparel And Gifts
FaithAnnOriginals
Ryan Laessig
The Earth And All Stars
KIMjrocks Productions
Sparrow Collective
Draft Tees
Felt Findings
Goldilocks & Bear Candle Co.
Black And Pink: Milwaukee
Sip & Succ(ulents)
Tinker Works
Vintage Jules
Tia Rose Woods & Wazaloo
Shovel + Spade
Natural Endeavor
C. Alden Spices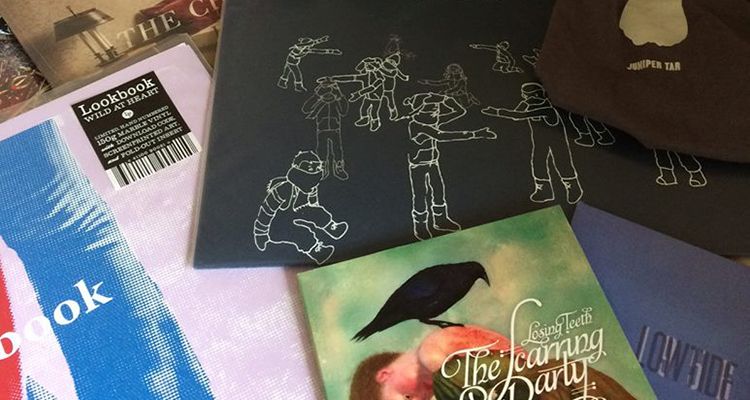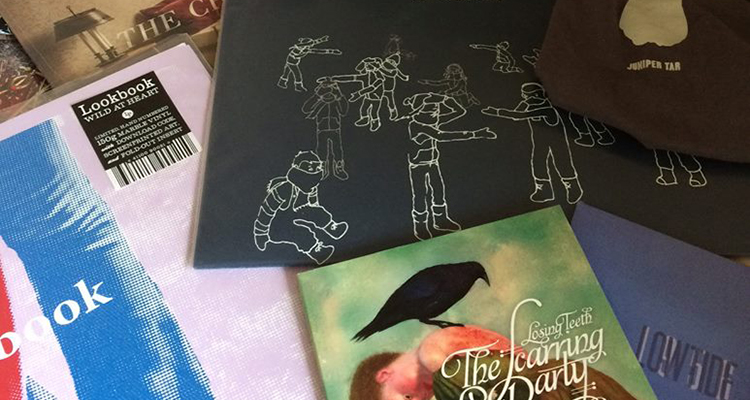 What's this "Broken Up Band Bazaar" thing?
If you made it this far down on this post, you're likely planning to come to Beet Street. If that's the case, we have one more excellent addition to this year's Beet Street. Yours truly at Milwaukee Record are bringing back our semi-annual "Broken Up Band Bazaar" marketplace, in which we (and other select vendors) will give local listeners another opportunity to pick up records, CDs, tapes, buttons, shirts, stickers, and other discontinued goodies from broken up bands, inactive rappers, and defunct labels. Dusty Medical Records, Latest Flame Records, Rush-Mor Records (who will be busy running the Pumpkin Pavilion, meaning we'll run their stand), and Rust Magazine will sell wares at their booth. WMSE's Eric Von Munz and Maggie Iken will DJ inside from 1 p.m. to 7 p.m.
Milwaukee Record will sell a variety of items we collected from the likes of: John The Savage, The Scarring Party, Blessed Feathers, Def Harmonic, Lookbook, The Wildbirds, Myles Coyne & The Rusty Nickel Band, Cougar Den, New Boyz Club, The MUSTn'Ts, The Celebrated Workingman, Mediocre Superheroes, 1956, He Can Jog, Carolina, Juniper Tar, The Championship. A portion of our stand's proceeds will be donated to Milwaukee Women's Center.
That's everything. There's literally nothing else you need to know about Beet Street. We'll see you Saturday, rain or shine!