China Lights Lantern Festival Returns to Milwaukee After Two-Year Hiatus
Show Runs Sept 16-Oct 30 at Boerner Botanical Gardens
Milwaukee – China Lights, the wildly popular Chinese lantern festival, is returning to Milwaukee County's Boerner Botanical Gardens for the fifth time this fall, and tickets go on sale on Aug 11.
The China Lights lantern festival, presented by Tri-City Bank, is a partnership between Milwaukee County Parks and Tianyu Arts & Culture, and was an instant smash hit when it first came to Boerner Botanical Gardens in 2016. Nearly 400,000 people have toured the light shows since, and this year the festival returns will a new theme and new lantern displays.
From Sept 16-Oct 30, visitors will enjoy an 'Adventure in Lantern Wonderland', with over 40 larger-than-life themed lanterns, including the Mad Hatter, the Caterpillar, the Cheshire Cat, an Illusion Tunnel, and the Queen of Hearts. At the end of the adventure, visitors will be invited to a tea party for a photo opportunity with all the characters.
The lanterns, which are displayed around a three-quarter mile walking route through Boerner Botanical Gardens, also include eleven interactive light displays, including a light kaleidoscope, an illuminated 'drumming tree' and illuminated swings.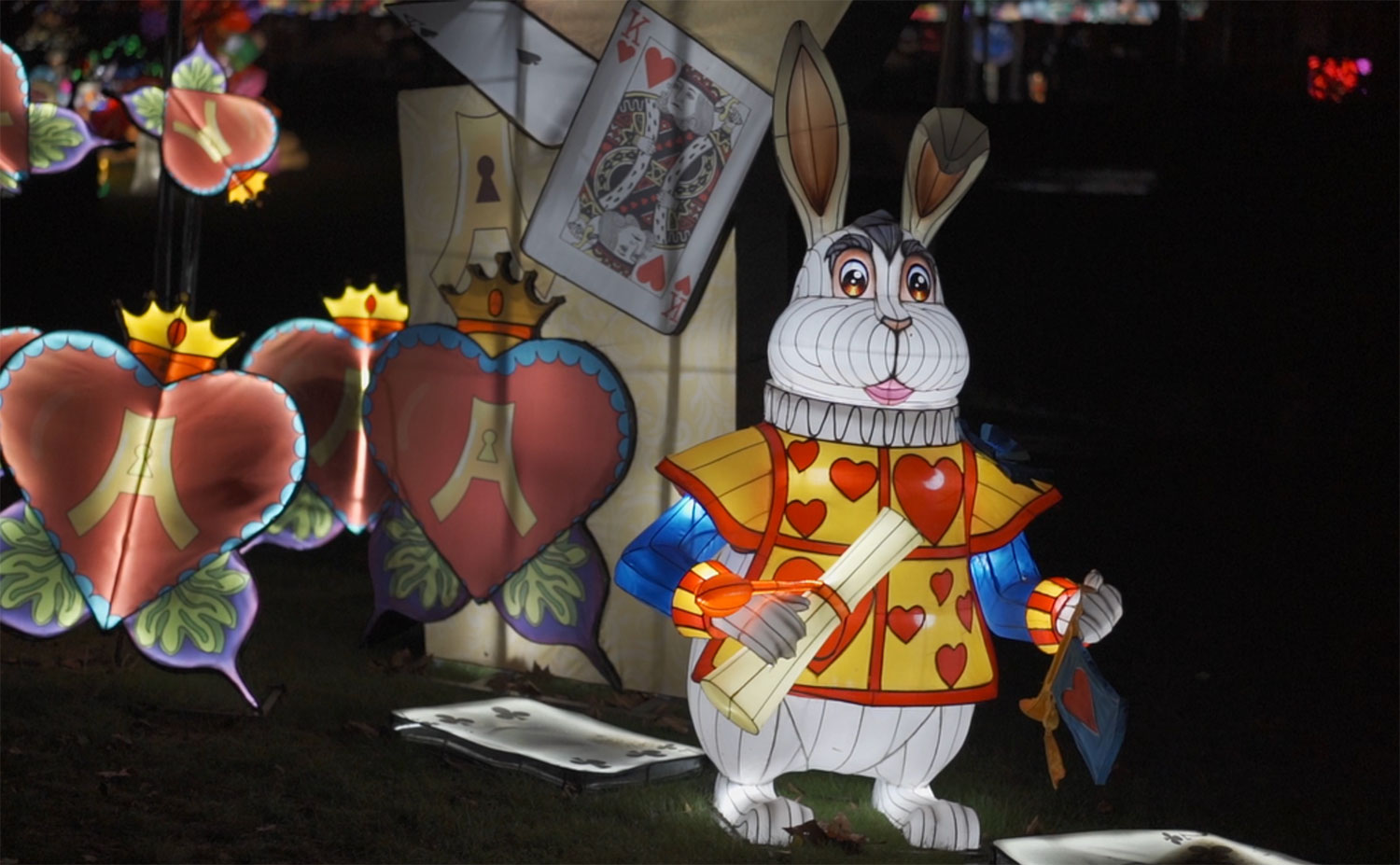 The festival, presented by Tri City National Bank, will also celebrate Asian folk-culture, with live performances from professional entertainers on the We-Energies stage each night, and a variety of food and beverage selections.
"China Lights is one of those Milwaukee are events that is a 'must-visit' and a 'must-selfie'. We know people are going to be especially excited to visit after a two-year break." Said Guy Smith, Executive Director at Milwaukee County Parks. "Over the last couple of years, we've also improved accessibility at Boerner Botanical with upgraded pathways, to ensure even more people can enjoy events like China Lights."
China Lights runs from Sept 16 – Oct 30, Tuesday through Sunday, from 5:30-10 p.m. Tickets for China Lights go on sale on Aug 11 and are available online at chinalights.org. This year tickets will be sold for specific dates and time-slots – visitors can choose between a 5:30pm entry and a 7:30pm entry. An early entry option is also available.
###
Additional Details
Special weekend themes include:
• Sept. 16–18, Opening Weekend
• Sept. 23–25, Chicago Weekend
• Sept. 30– Oct. 2, Cultural Weekend
• Oct. 7–9, Milwaukee County Parks Weekend
• Oct. 14–16, Alice in Wonderland Weekend
• Oct 28–30, Closing Weekend
Parking
Premium paid parking is in the paved lot nearest the China Lights entrance. Tickets for this lot may be purchased on a first come first serve basis. The same parking lot will also be available on a first-come, first-served basis to people with disabilities who have state-issued disabled parking or disabled Veteran parking license plates, or the state-issued disabled parking identification card.
First-come, first-served, complimentary parking will be available at fully lighted parking lots. A complimentary shuttle service will serve the outer lots. Additional street parking will be available where marked.
Designated drop-off areas for authorized taxis/uber and motorcoaches will also be located near the China Lights entrance. Motorcoach operators must make advance arrangements.
Admission
Tickets are sold online for a specific date and time. There are two time slots for tickets each night – 5:30PM and 7:30PM. A limited number of walk-up tickets will be available at the box office at the festival entrance from 5:00PM – 9:00PM. There will be a $5 – $10 surcharge for walk-up tickets.
Advance ticket prices are the following:
General Admission (13yrs+): $22 weekday, $25 weekend
Child (3-12yrs): $14 weekday, $16 weekend
Infant (under 3): free
Early Entry* (any age): $25 weekday, $28 weekend (only 100 early-entry tickets issued per night)
Family Pack (2 general, 2 children): $62 weekday, $$70 weekend
Unlimited-visit Individual Season Pass: $55
Walk-up ticket prices are the following:
General Admission (13yrs+): $35
Child (3-12yrs): $20
*Family Pack, Season Pass and Early Entry are not available at the box office.
*Early Entry tickets include the following:
1) Entry at 5:00pm to beat the crowd.
2) Guided tour at 5:15pm.
3) A souvenir set of China Lights postcards (with photos of our favorite lanterns from 2016 -2019).
Find more press releases HERE.