Our fat-free, dolphin-safe Milwaukee events calendar is chock-full of things to do, but only a handful of events are worthy of the lofty honor of "Record Recommended" (patent pending). Here are our recommendations for October 3-9, 2022.
MONDAY, OCTOBER 3
Milwaukee Comedy Festival @ various locations (through October 9)
Originating long before the city had anything resembling a sustainable comedy community, Milwaukee Comedy Festival has grown and evolved along with Milwaukee's stand-up scene. In fact, the annual comedic undertaking has been an invaluable means of pushing local comedy to exciting new territory. Along the way, Milwaukee Comedy Festival has also brought in noted national talent to headline some of its shows. You can check out the full lineup HERE.
Father John Misty + Suki Waterhouse @ The Riverside Theater
TUESDAY, OCTOBER 4
WMSE Local/Live: Holy Pinto @ Anodyne Walker's Point Roastery
Aymen Saleh—a.k.a. Milwaukee singer, songwriter, and producer Holy Pinto—has kept busy of late with a steady run of local performances, semi-frequent tours, and collaborations with artists from all ends of the musical spectrum. Long before he became an unlikely ambassador for the Milwaukee music scene, Saleh was growing up in Canterbury, England and devoting his time to learning the drums and guitar. For this free, open-to-the-public, live broadcast of WMSE's Local/Live, expect Saleh to play his latest song, "us, married," which finds him collaborating with indie-rock sensation and budding producer Bartees Strange.
Half Gringa + Ellie Jackson @ Cactus Club
Agent Orange + The DUIs @ Shank Hall
WEDNESDAY, OCTOBER 5
The Roast Of Milwaukee @ The Cooperage
After a couple of years away, Milwaukee Record's long-running Roast Of Milwaukee event is back! Like previous years, the event—which is done in association with the Milwaukee Comedy Festival—will feature a stacked cast of local comedians gently (or, in some cases, viciously) making fun of our fair city. Joining the homegrown humorists is host Kristin Brey of "As Goes Wisconsin," as well as a handful of surprise guests. And the laughs won't just be at the expense of Milwaukee. A portion of the show's proceeds will be donated to Milwaukee Women's Center.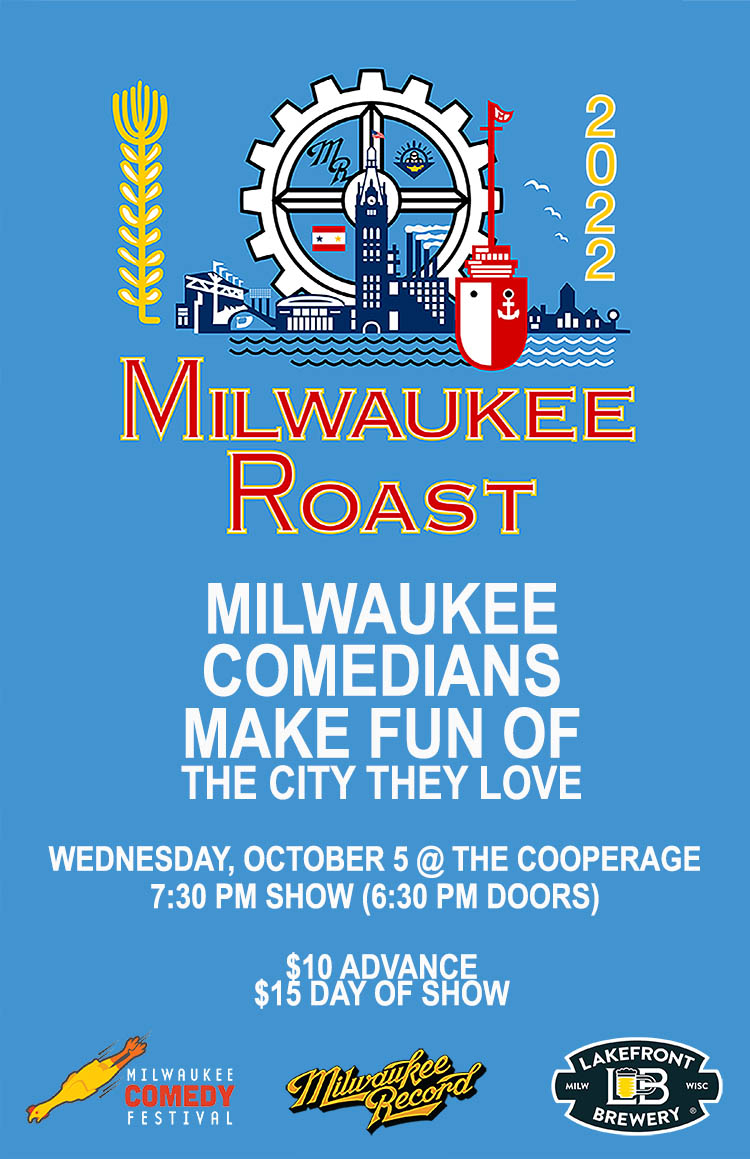 THURSDAY, OCTOBER 6
Autumn At The Allis: Jonathan Mayer + Liam Hayes @ Charles Allis Art Museum
Every Thursday night in October, Charles Allis Art Museum will celebrate autumn with an eclectic blend of live and local music at its gorgeous Tudor-style museum on Milwaukee's East Side. The four-concert seasonal series will also feature food from Flour Girl And Flame (on October 6, October 13, and October 20) and Ethiopian Cottage Restaurant (October 27). Autumn At The Allis kicks off with a performance by Jonathan Mayer (of Surgeons In Heat and other Milwaukee bands) and Liam Hayes.
Hippo Campus + CHAI @ The Riverside Theater
Thyroids + The Road Soda, Full Nude, Bash Brothers @ Promises
FRIDAY, OCTOBER 7
Steven Wright @ South Milwaukee Performing Arts Center
Often imitated and never replicated, Steven Wright is the master of the one-liner. The veteran comedian has helped revolutionize the art of stand-up with his surrealist and deadpan style and monotone delivery that have been delighting audiences for decades. The legendary humorist will make a rare appearance in the area when he swings by South Milwaukee Performing Arts Center for what's sure to be an unforgettable and side-splitting show
Chris Gethard (Live Podcast Taping + Stand-Up Show) @ X-Ray Arcade
Chris Gethard is a lot of things. He's a cult comedy legend, the namesake and former figurehead of The Chris Gethard Show, an actor (who you might know from films like Don't Think Twice and TV shows like Broad City and The Office), the host of the Beautiful/Anonymous podcast, an avid soda pop collector, and an undisputed point of New Jersey pride. He's also performing two shows at X-Ray Arcade this week. The early show (doors at 6 p.m, show at 7 p.m.) will be a live recording of his aforementioned Beautiful/Anonymous podcast. The late show (doors at 9 p.m., show at 9:30 p.m.) will feature Gethard performing stand-up comedy. Both events are all-ages.
Five Finger Death Punch + Megadeth, The Hu, Fire From The Gods @ American Family Insurance Amphitheater
Flannel Fest Pre Party: Paper Idol + Moonglow, Blood @ The Cooperage
Teddy And The Rough Riders + Ladybird @ Cactus Club
KMFDM + Chant @ The Rave / Eagles Ballroom
Paul Rodriguez @ Potawatomi Hotel & Casino
SATURDAY, OCTOBER 8
Flannel Fest @ Boon & Crockett
Back in 2019, Boone & Crockett—in partnership with The Cooperage, Taco Moto, and Pedal Tavern—hosted a celebration of music, food, and seasonal attire known as "Flannel Fest." That iteration brought hundreds of people to the Harbor District bar on a brisk fall day/night to see live music performances. We were there. It was fun! Now, Boone & Crockett is officially bringing Flannel Fest back in a live and in-person capacity. Twan Mack, Coo Coo Cal, and The Rusty P's will headline the evening, with Collections Of Colonies Of Bees, Dramatic Lovers, Hanna Simone, the Steph Lippert Project, and many more playing in support.
Fall Block Party @ Enlightened Brewing Company
The final block party Enlightened Brewing Company will host this year will be an especially good one. The Bay View brewery will serve up great beers, tasty meats from Sweet Smoke BBQ, tasty treats from Creme de Liqueur and Happy Joy Candy Floss, and tunes from Driveway Thriftdwellers and Hosts.
Comedian CP @ Potawatomi Hotel & Casino (7 p.m. and 9 p.m. shows)
Wait, Ned from Detroiters—better known as Christopher Powell or "Comedian CP"—is coming to Milwaukee to perform stand-up? Awesome! The actor and comedian who you might know from Empire, Love Life, and from his recurring role in the criminally underrated Detroiters will headline a pair of shows at the Northern Lights Theater on Saturday.
Chris Stapleton + Elle King, Morgan Wade @ Fiserv Forum
Toadies + Reverend Horton Heat, Nashville Pussy @ The Rave / Eagles Ballroom
Sustainable Saturdays @ Anodyne Walker's Point Roastery
SUNDAY, OCTOBER 9
Milwaukee Record Halftime Show: Cabin Essence @ Cactus Club
Every season since 2017 (except 2020, of course), we've proudly booked and produced the "Milwaukee Record Halftime Show" concert series at the Cactus Club. This Sunday, buckle up for a morning edition: Starting at 8 a.m., Cactus Club will be open to show the Packers and Giants squaring off at Tottenham Hotspur Stadium in London. As usual, there will be $10 buckets of Miller High Life and Miller Lite, $8 Rehorst Vodka Bloody Marys, and touchdown shots. The halftime performance will feature Cabin Essence playing a set of covers by UK artists. Meanwhile, DJ and noted fish fry enthusiast Caleb Westphal will be spinning 45s of British bands during the game's commercial breaks. We'll be bringing free coffee and donuts for folks to enjoy (while supplies last), and Cactus Club will be serving up a special cocktail made with Earl Grey-infused Rehorst Vodka. Last, but certainly not least, series sponsor Awkward Nerd Events will be on site with all-Brit everything: decor, a photobooth, raffle giveaways, and tickets to their huge January Ball!
Peter Mulvey + SistaStrings @ The Back Room @ Colectivo
In late 2020, prolific singer-songwriter Peter Mulvey and the incomparable instrumentalists in SistaStrings co-released Live At The Cafe Carpe. Two years later, Mulvey—a Milwaukee-born musician who now calls Massachusetts home—and the Ross sisters—Milwaukee mainstays who are enjoying tremendous amounts of success following a recent move to Nashville—once again collaborated on a joint album. A few months removed from the release of Love Is The Only Thing, Mulvey and SistaStrings will return to their hometown to perform songs from their two albums.
The Mars Volta + Teri Gender Bender @ The Rave Eagles Ballroom
Milwaukee Comedy Festival: Laurie Kilmartin @ Shank Hall
Desperate Electric + The LOL, Economy Superstar @ Promises
Violet Wilder + SSAANN, Jack Tell @ Anodyne Walker's Point Roastery
Exclusive articles, podcasts, and more. Support Milwaukee Record on Patreon.