Valentine's Day is just around the corner! If you know anything about love and romance, you're probably aware that celebrating the holiday with food that sort of resembles a heart—not an actual heart, but what society has universally accepted as the shape we all want hearts to be—is pretty much a must. Or maybe it's not a must, but just something that's kinda fun and goofy. It's probably the second one, actually.
Either way, if you're still looking for some heart-shaped goodies enjoy this Valentine's Day weekend (and/or on February 14 itself), you need look no further because your cherubic, Cupid-like pals at Milwaukee Record have put MINUTES of effort into finding some meals, appetizers, and other goodies offered in and around the city that are shaped like hearts. (And, no, we didn't include cookies, cakes, and the like because you can find that stuff at pretty much any local bakery or grocery store.) So without further delay, let's get our heart on, Milwaukee!
PIZZA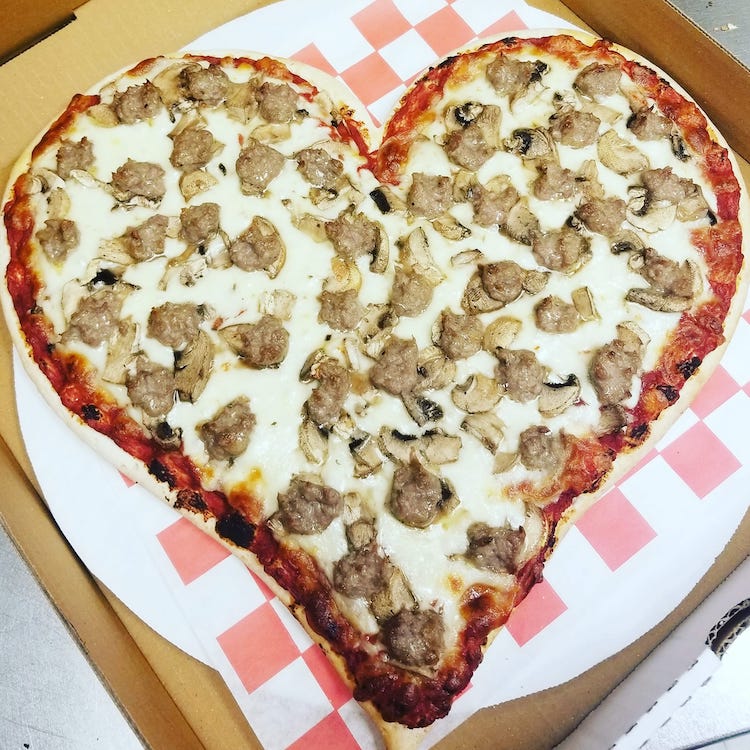 Di Stefano's Pizza Palace
The same 50-year-old Italian restaurant that makes "Lenten Pizza" that's shaped like a fish also offers heart-shaped pizzas around Valentine's Day. You can request one for carryout or delivery.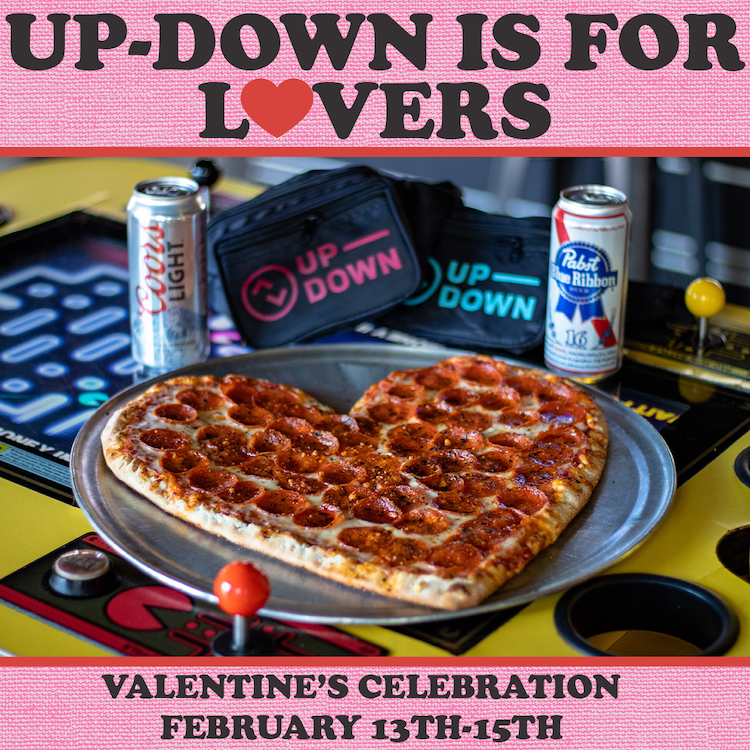 Up-Down Milwaukee
The East Side arcade is getting in on holiday spirit with a Valentine's Day special. According to Up-Down's Facebook page: "From Sunday, February 13th through Tuesday, February 15th, you can get six domestic tallboys, 80 tokens, an Up-Down fanny pack, and a heart-shaped pizza for just $35."
Chain Restaurants Aplenty
Live in the suburbs? Dating someone especially fond of a certain chain restaurant? Want to eat at home? Well, you can get heart-shaped deep dish pizza at Lou Malnati's, a Detroit-style heart 'za at Rocky Rococo, and other heart-shaped pizzas from places like Papa Murphy's and Papa John's. No judgement here…except maybe on the Papa Murphy's one.
PRETZELS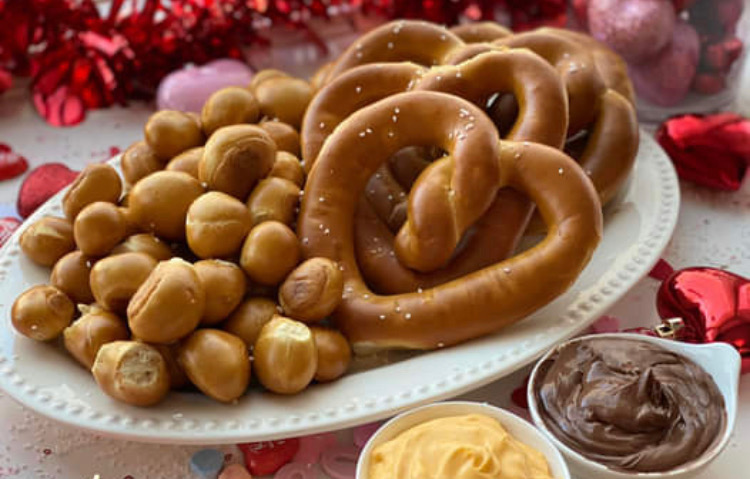 Milwaukee Pretzel Company
Looking to put a special twist on your Valentine's Day? Milwaukee Pretzel Company has you covered with a variety of heart-shaped pretzel packs.
PASTA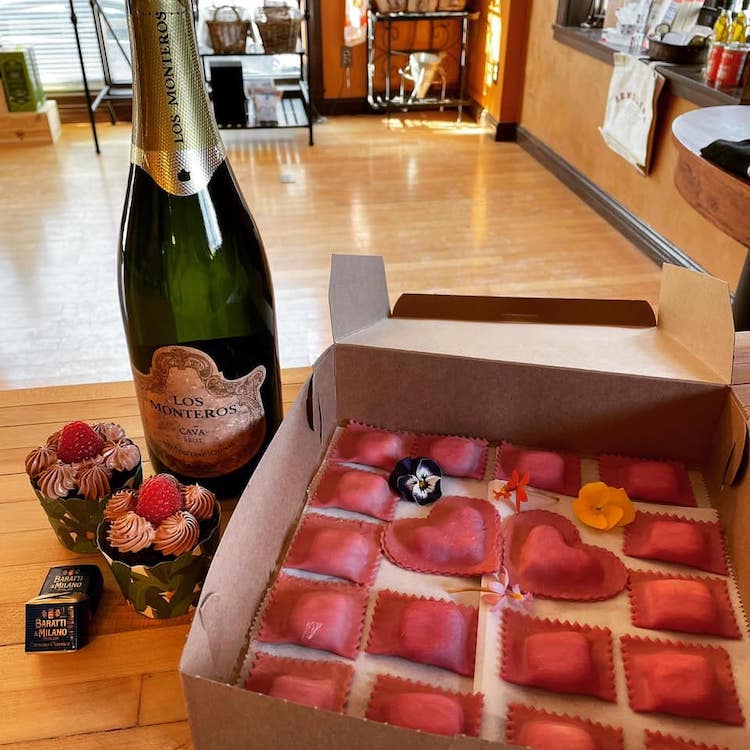 Semolina
For its first February since opening, Bay View-based Italian specialty shop Semolina is getting in on the holiday fun with a Valentine's Day Pasta Package. Each $50 pack includes: 20 cheese ravioli (including two heart-shaped ravioli), two dark chocolate cakes with raspberries and chocolate Italian buttercream, a bottle of Los Monteros Brut Cava, two Baratti & Milano Cremino Classico chocolates, and some edible flowers to decorate your plates. Quantities are limited. Call 414-249-4472 to purchase and arrange pickup between Friday and Sunday.
PASTRIES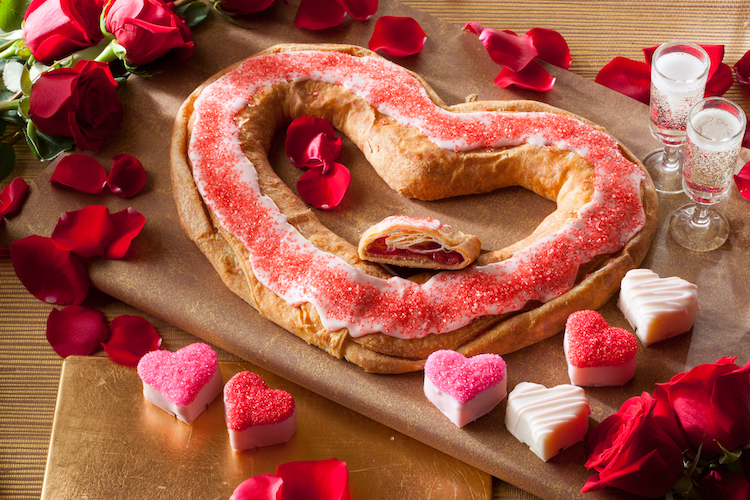 O&H Danish Bakery
Yeah, yeah…it's Racine and not Milwaukee, but who can resist a heart-shaped Kringle?
Know of any other heart-shaped stuff being offered in the area this Valentine's Day? Add 'em in the comments.