For many years, the beer industry was one completely dominated by men. Male distributors sold products made by male brewers to bars, restaurants, and liquor stores that were typically owned by—you guessed it!—men. Thankfully, that's beginning to shift. Though there's still a great deal of room for change and inclusion in the industry as a whole, more women than ever before are getting involved in beer production, sales, and purchasing.
Throughout the month of March, some female Milwaukee-area beer reps from nine different breweries and distributors are partnering with some women buyers and bar owners from all over the region to put on more than 25 unique events and promotions that will celebrate Women's Month and raise funds for a great local organization in the process.
The events were organized by sales representatives, brewers, and owners from 3 Sheeps, New Barons, Revolution, Surly, Bell's, New Belgium, Indeed, Great Lakes, and Eagle Park. During each of those events (which kick off March 2 and run through March 31), $1 from each purchase of one of those brewery's beers will benefit the Sojourner Truth House. While raising money for Sojourner through the sales of craft beer, the events are also a way to acknowledge the encouraging shift that's bringing more women into the beer industry.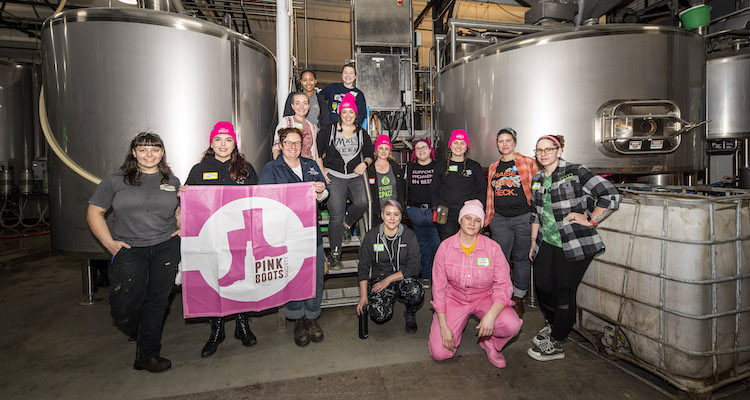 "That's been a personal mission for me even before I was in the industry. I started Milwaukee Girls Pint Out in 2015 and ran the Wisconsin Pink Boots Chapter from 2015-2017," Revolution Brewery representative and co-organizer Maggie Skinner says. "Joining this group in my current role with Revolution Brewing just seemed like the right fit. I'm also honored to give back to Sojourner Family Peace Center, as there was definitely a time I leaned on them when I experienced domestic violence."
Some standout happenings from the multi-site Women's Month celebration include a March 5 bottle exchange at Ray's Growler Gallery, a March 12 brunch party at Saint Bibiana, and a March 26 Womxn's Month Fest at Elwood's Liquor & Tap. All the events are rooted in a sense of collaboration, inclusion, and support for a deserving Milwaukee charity. There are also eight promotions that will raise funds for the organization all month long. Here's the schedule and a list of participating Women's Month locations:
March 2 — Izzy Hops
March 2 — Red Lion Pub
March 5 — Ray's Growler Gallery
March 8 — Station 6
March 9 — Milwaukee Burger Company (Franklin)
March 9 — Palomino
March 12 — Saint Bibiana
March 12 — Sugar Maple
March 15 — Comet Cafe
March 15 — Crafty Cow (Tosa)
March 16 — Von Trier
March 21 — Wisconsin On Tap
March 22 — Ferch's
March 22 — Inventors Brewpub
March 23 — New Barons Brewing Coop
March 26 — Elwood's Liquor & Tap
March 27 — Brass Tap
March 28 — Bad Moon Saloon
March 29 — Three Lion's Pub
March 29 — Reunion Restaurant
March 30 — Crafty Cow (Milwaukee)
March 31 — Three Cellars
All month long — Erv's Mug
All month long — The Tap Room
All month long — Draft & Vessel (Tosa)
All month long — Stilt House
All month long — Cleveland House
All month long — The Stillery (Richfield)
All month long — The Stillery (Grafton)
All month long — The Buzz (Kenosha)