Every Friday, Off The Record looks to other Milwaukee publications (and beyond) for bits of news we missed throughout the week.
• If a week in Milwaukee goes by without some sort of strip club drama, is it really a week in Milwaukee? Here are the bare facts of this week's dustup: On Monday, news broke that hole-in-the-wall Riverwest bar Tha Circle, 2221 N. Humboldt Ave., had tacked on "adult entertainment/strippers/exotic dancers" to its Class B Tavern and Public Entertainment Premises license renewal. Adult entertainment in Riverwest? Across from the Pick 'n Save? Surely not! Everyone lost their shit (the Riverwest Neighborhood Facebook page was a delight), and a public hearing was planned for the next day.
But, before the public had time to weigh in during that hearing, Tha Circle owners Christina and Daryl Carter withdrew their "adult entertainment" application, claiming the whole thing was a big misunderstanding:
"We never asked to open a strip club, so we want to withdraw that," [Carter] told the aldermen.

Carter and his wife, Christina, said that when they applied to renew their business license, they asked about the possibility of renting out the space for bachelor parties. They said a city employee suggested they check a box on the application marked for "adult entertainment."
So there you go. Former OnMilwaukee writer Dave Begel, meanwhile, could not be reached for comment following the devastating news. [WISN12]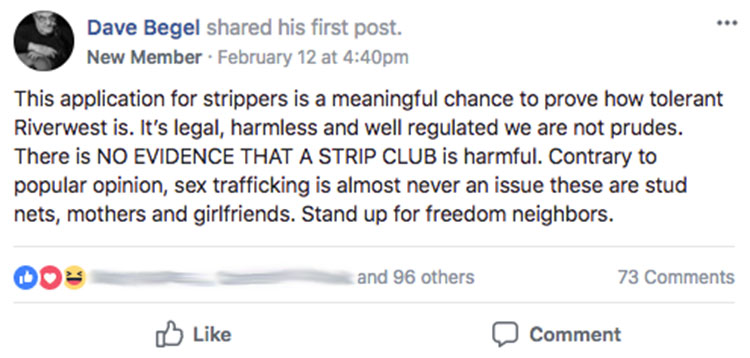 • Ahead of this Saturday's big Bon Iver/For Emma 10-year anniversary concert, Justin Vernon and friends (including former bandmate and current Field Report frontman Chris Porterfield) played a secret show at Mad Planet. [Breaking And Entering]
• Milwaukee firm Eppstein Uhen Architects will design Summerfest's new American Family Insurance Amphitheater. The 23,000-capacity venue is set to replace the current amphitheater in 2020. [Milwaukee Journal Sentinel]
• The list of semifinalists for the 2018 James Beard Awards include a lot of Wisconsin and Milwaukee names. [88 Nine]
• Lauryl Sulfate And Her Ladies Of Leisure have a new song, "If You Want Me To," and it's incredible. Catch the band tonight at Company Brewing. [Soundcloud]
• BREAKING: Milwaukee businesses sometimes use memes and pop-culture references to market themselves! [Milwaukee Journal Sentinel]
• A donut shop is opening in Bay View. [OnMilwaukee]
• A vegan eatery is opening on the East Side. [OnMilwaukee]
• Have a great weekend, Milwaukee!