With our "Business To Business" series, we're offering business owners in and around Milwaukee a platform to acknowledge other local establishments and area entrepreneurs they appreciate. This week: Enlightened Brewing Company co-owner Tommy Vandervort voices his appreciation for OnTime Promo & Apparel. Here's what Tommy has to say…
Enlightened wants to give a hearty cheers to Joe, Ben, and the entire crew at OnTime Promo & Apparel, now based in New Berlin. We met those guys many years ago when we were still in the Lincoln Warehouse, and I'm going to guess it involved several beers because the exact circumstances are a bit hazy.
We work primarily with Joe and he's absolutely one of the nicest guys in this city. They've done custom embroidery jobs for us. They've printed T-shirts, tons of hats, sunglasses, fanny packs. You name it and they can brand it. They also source some of the softest damn T-shirts we've ever felt. Tri-blend Bella Canvas changed my life and it's all thanks to Joe. For special events at the taproom, like our block parties, we'll collaborate with OnTime to create a new piece of merch, too.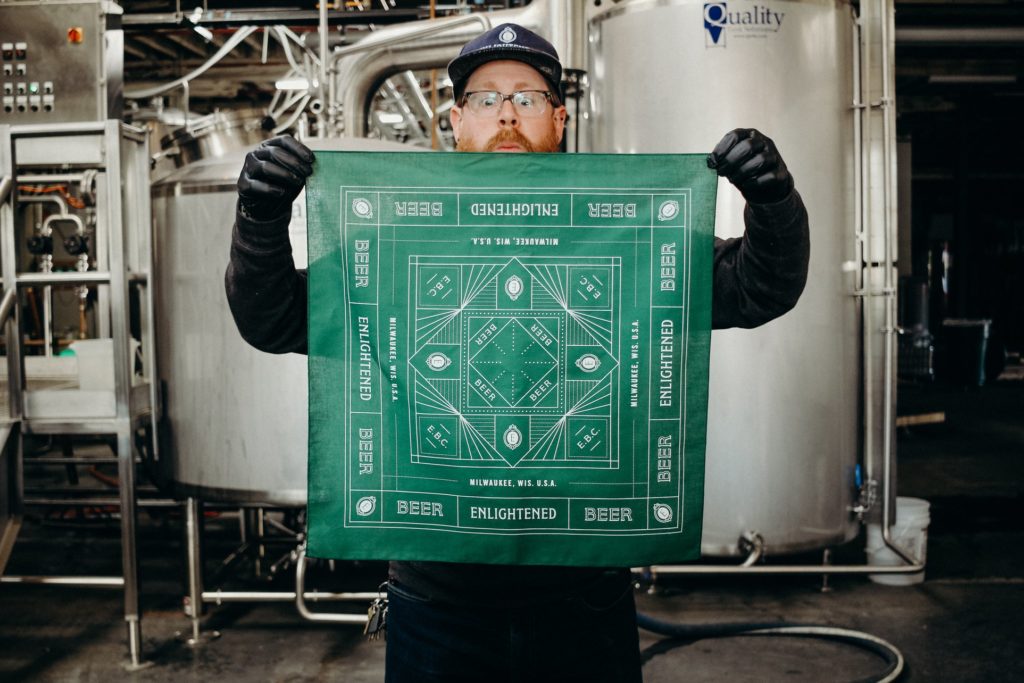 They've been great in working with us and local artists to create cool pieces like the EBC Fanny Pack we put out with artists David Zimmerman (Bigshot Robot) and Chris Walker for a Rough Draught Series can release we did with them. (If I can double dip and shout them out in this Business To Business entry, they're excellent artists and really great guys!) OnTime has quick turnaround on most things compared to the big business tchotchke operations and they've always been really thorough in making sure things turn out exactly the way we want them to. Breweries often need a lot of random branded things, and it's been fun to see what we can put the Enlightened name on and send out in the market.
Additionally, Joe plays in a band called Lost Orange Cat and not only is he one handsome dude, but he can also rip it up on the Mandolin along with another great business owner—Kyle Ciske over at Ope! Brewing—and the rest of the LOC crew. They've played at the taproom a handful of times including for a block party last season. They're really great and fun.
There are so many great businesses in our neighborhood and our city, and even though OnTime consolidated their Bay View shop into the New Berlin location, they're still around here quite a bit. In general, we're just so glad to work with many great business owners in the city and we've found plenty a mentor, a helping hand, a sounding board for ideas, and a friend in them. So cheers to you, OnTime Promo!