On June 14, following a highly publicized contest that drew more than 1,000 entries, a group called "The People's Flag of Milwaukee" unveiled, well, the "People's Flag of Milwaukee." The new flag was meant to replace the current Milwaukee flag, which, as we all know, violates the five rules of good flag design that Christ preached to his disciples, and was deemed highly odious by podcast host Roman Mars. And when Roman Fucking Mars says change your flag, you change your flag.
Anyway, the winning "People's Flag" design was Robert Lenz's "Sunrise Over the Lake." According to Lenz, "the sun rising over Lake Michigan symbolizes a new day. The light blue bars in its reflection represent the city's three rivers and founding towns. Gold symbolizes our brewing history and white represents the city united." Despite its resemblance to a Comfort Inn logo (among other things) and its less-than-thrilling appearance at a less-than-thrilling neighborhood meeting, the "People's Flag" looks sharp. It's bright, bold, uncluttered, and clean. For better or worse, it's everything the current Milwaukee flag is not.
It also (surprise!) looks great on merch. And boy howdy, there's plenty of "People's Flag" merch to go around: T-shirts, baseball caps, tote bags, wall clocks, framed prints, iPhone cases, throw pillows, laptop sleeves, mugs, bath towels, rugs, and just plain old flags are only a few of the "People's Flag"-customized items you can buy for your flag-loving family and friends. And now, thanks to the fact that "Sunrise Over the Lake" has been released into the creative commons, anyone can hawk "People's Flag" merch. Enter Milwaukee Record's "People's Socks of Milwaukee."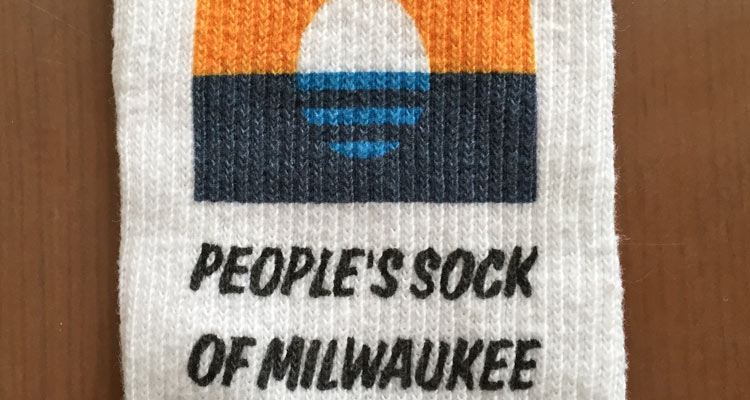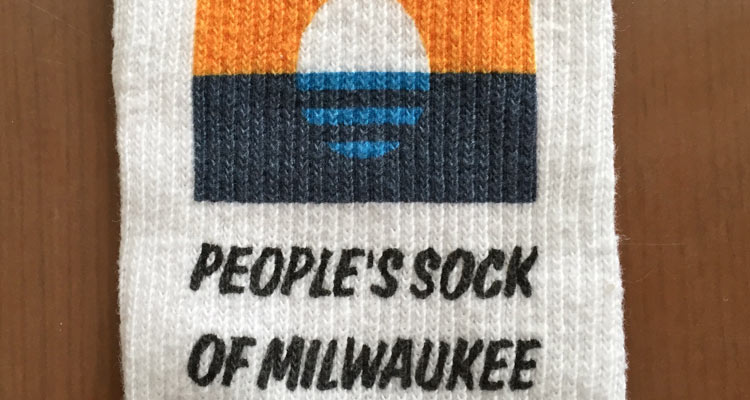 Yes, now you can proudly display your hope for a better Milwaukee via good flag design with these attractive unisex Hanes crew socks, each emblazoned with "Sunrise Over the Lake." Made from 80% cotton, 16% polyester, 3% natural latex rubber, 1% nylon, and a trace amount of shameless opportunism, these socks are sure to impress co-workers, loved ones, excitable children, graphic designers, and podcast hosts alike. They would scream "I love Milwaukee!" if they were only a bit more breathable.
Featuring full cushion construction and durable "Double Tough" soles, the "People's Socks of Milwaukee" are the final pieces in the jigsaw that is your growing "People's Flag" ensemble. Simple yet striking, tough yet tube-like, and best worn with cargo shorts and New Balance shoes, the "People's Socks of Milwaukee" are the socks of Milwaukee's bright and unified future.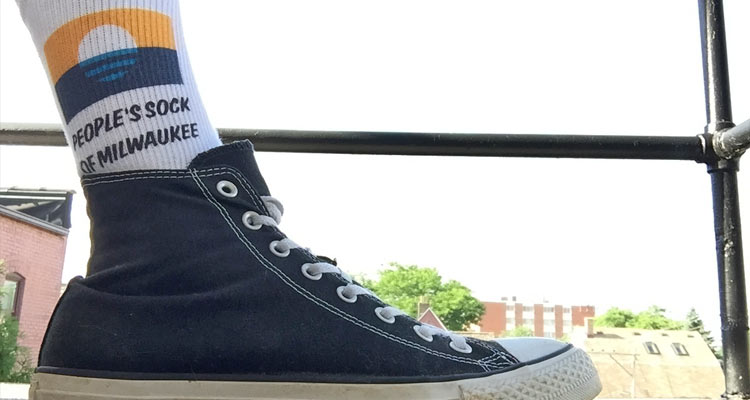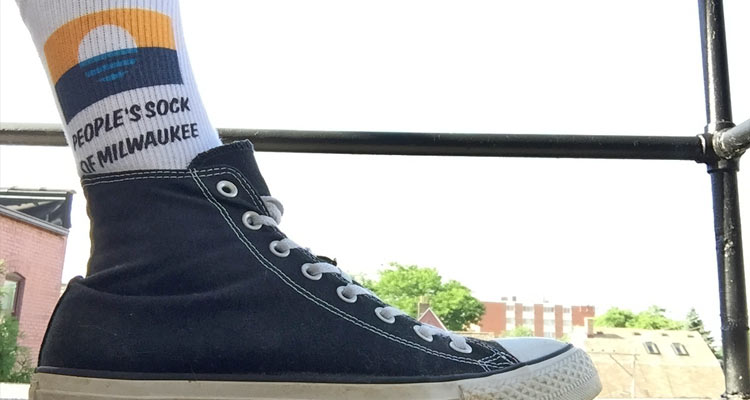 And they're available now for the low, low price of $15 a pair ($5 shipping included), only from Milwaukee Record! Well, actually, we just hastily designed and ordered them through Customized Girl for $11.97, though we'd be happy to save you the trouble for that extra $3.03.
Head over to our merch store for more details, and long live the #PeoplesSocks!