Milwaukee Chamber Theatre Presents the World Premiere of HOOPS
Adapted by Eliana Pipes with Original Music by B~Free from The HOOPS Project by Nicole Acosta
March 10 – April 2, 2023
Studio Theatre, Broadway Theatre Center
MILWAUKEE, WI, February 20, 2023: Milwaukee Chamber Theatre (MCT) announces the World Premiere of HOOPS adapted by Eliana Pipes with original music by B~Free from the HOOPS Project portrait series by Nicole Acosta. Directed by San Diego's Patrice Amon, HOOPS features Milwaukee-based actors Paulina Lule and Ashley Oviedo, and Los Angeles-based Celia Mandela Rivera. All are making their Milwaukee Chamber Theatre debuts.
MCT's fourth production of the 2022-2023 season opens Saturday, March 11th at 8pm. Preview night is set for Friday, March 10 at 7:30pm. Tickets can be purchased via the MCT website, milwaukeechambertheatre.org/tickets or by calling 414-291-7800.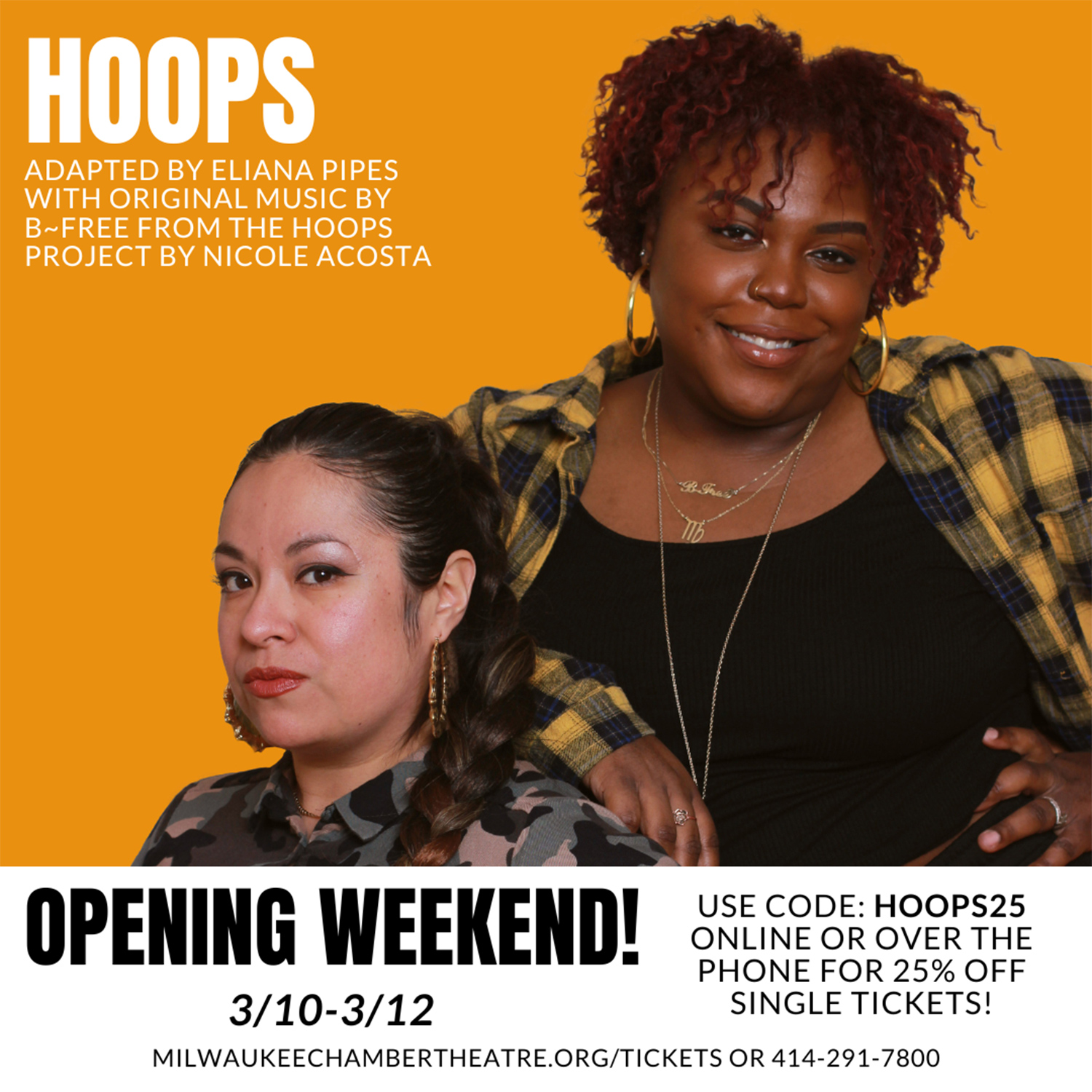 Dating back nearly 5,000 years, hoop earrings are powerful symbols telling stories of home, love, resistance, protection, and freedom across a multitude of cultures and communities. Based on intimate interviews that bring to life the portrait subjects of Milwaukee multidisciplinary artist Nicole Acosta's internationally acclaimed HOOPS Project–and with a vibe-worthy get-up-and-groove tailor-made score from Milwaukee's own B~Free–HOOPS celebrates the journey to self-discovery and belonging, identity and culture, and so much more.
Part of World Premiere Wisconsin, a statewide festival celebrating new plays and musicals, HOOPS is a new play birthed from Acosta's HOOPS Project portrait series. "It's been a beautiful journey to witness my art transform from a small portrait project to a solo photography exhibition and now a stage play," said Acosta. "HOOPS is a labor of love. It is a communal experience that holds space for the humanity of my subjects. It is a tremendous honor to be able to share these stories and voices via the art of theatre."
"We are so excited for audiences to get to experience this world premiere play," said Amon. "HOOPS invites audiences to join in the celebration of this iconic jewelry and find the empowerment that comes with hoops. These earrings are a way for Black, Brown, and Indigenous folks to find pride in themselves and their cultures. We hope that audiences will see themselves in the personal stories and collectivism of the experience."
Through a collaboration with the Milwaukee Artist Resource Network (MARN), the HOOPS Project portraits are on display for the first time as a solo photography exhibition now through April 3, 2023, at the MARN ART + CULTURE HUB. The HOOPS exhibition at MARN coincides with MCT's stage production. View more about the exhibition at https://marnarts.org/
"Our focus at Milwaukee Chamber Theatre is local—supporting and developing our local professional artist community, and telling stories from unique voices grounded in excellent text that are relevant to, about, or developed in Milwaukee," said Artistic Director Brent Hazelton. "A theater adaptation by a wonderfully imaginative and quickly emerging national voice in Eliana Pipes of a locally born and internationally celebrated portrait series that focuses on hoop earrings and the stories of the humans who wear them and the cultures in which they are so deeply rooted checks literally every single box on the list of ways we hope to serve and reflect our community with our new plays. As for HOOPS itself, it's an energetic celebration of people and stories and cultures who are not celebrated nearly enough on our stages—either in our own community or the mainstream American theater community writ large. I cannot wait to share it with Milwaukee."
A ticket to HOOPS supports local theatre artists across all disciplines. Rounding out the creative team are notable Milwaukee creatives Britney "B~Free" Freeman-Farr (Composer), Peter Clare (Sound Design) Kyndal Johnson (Costume Design), Ellie Rabinowitz (Lighting Design), Sydney Smith (Assistant Stage Manager), Emily Marie Wilke (Stage Manager), and Madelyn Yee (Scenic and Properties Design).
"I was honored to interview 12 of the portrait participants and weave threads of their stories into the tapestry of this play – along with a few inventions of my own," said Pipes. "As the playwright, my work is to elaborate, elevate and create a framework to put these stories in dialogue with each other, and with our world today. Hoops are a celebration of culture, and this play brings everybody along for the party. I was so moved by the stories I witnessed through this process, and I'm proud to bring them to the stage."
HOOPS is supported by Associate Producers Julie Anding and Lisa Kornetsky. HOOPS is also supported by Milwaukee Artist Resource Network and World Premiere Wisconsin.
TICKET INFORMATION
HOOPS runs March 10-April 2, 2023, in The Studio Theatre located inside the Broadway Theatre Center. To purchase tickets, go to www.milwaukeechambertheatre.org/tickets, call 414-291-7800, or visit the ticket office in person at 158 N. Broadway St. in the Historic Third Ward.
More information about MCT, the 22/23 season, how to purchase tickets, and how to donate can be found at www.milwaukeechambertheatre.org.
TALKS AND EVENTS
Pay What You Choose Night: Mon, March 13 at 7:30pm
ASL Performance: Fri, March 31 at 7:30pm
SIPSTUDIO: Fri, March 24 at 6:30pm pre-show, 5th floor rehearsal hall
Artist Appreciation Night: Fri, March 24 at 7:30pm all tickets $15
TalkBacks: March 16, March 23, March 30, Post performances
For more information on talks go to https://www.milwaukeechambertheatre.org/continuing-the-conversation.
COVID AND ATTENDEE EXPERIENCE
HOOPS audience members are required to wear masks fully covering both nose and mouth only while inside the Studio Theatre itself. Since returning to in-person performances, MCT has cancelled zero shows due to COVID-19 infections amongst performers–help us protect the play and continue that streak! Due to our unique programming, exceptional multidisciplinary artists, and modest budgetary scale, MCT does not contract understudies. Our financial viability depends on our performers staying healthy through closing night. Masking within the intimate Studio Theatre allows the artists and MCT a safer and stronger future. Protocols are reassessed on a per-production basis.
ABOUT MILWAUKEE CHAMBER THEATRE 
Founded in 1975 by Montgomery Davis and Ruth Schudson, guided until 2020 by Michael Wright and Kirsten Finn, and now led by Brent Hazelton, Milwaukee Chamber Theatre (MCT) partners with other arts organizations, community-based organizations, and universities to produce thought-provoking productions and innovative outreach programs on an intimate, human scale. As a leader in developing Milwaukee and Wisconsin's theater community, MCT provides regular employment and a stable artistic home to local theatre professionals through a five-play subscription season, the Young Playwrights Festival (YPF), and the Montgomery Davis Play Development Series (MDPDS). MCT performs at the Broadway Theatre Center in Milwaukee's Historic Third Ward and is a proud Member Group of the United Performing Arts Fund. For more information, to purchase tickets, or to donate, please visit milwaukeechambertheatre.org.
ABOUT THE CAST AND CREATIVE TEAM
Paulina Lule (Bey) They/She is a Milwaukee-based actor and filmmaker and is excited for their MCT debut! Their acting training began at the Joanne Baron/DW Brown Studio in Santa Monica, CA and the Los Angeles branch of Identity School of Acting. As a filmmaker, they've won Best Student Film at the Bronze Lens Film Festival, Best Film – Voices Heard Category and Audience Choice awards at the Milwaukee Short Film Festival, and Best Foreign Film at the Chinese Universities Student Film and Television Festival in Hong Kong. They have also received Best Actress and Best Acting Duo at the Independent Shorts Film Festival and Best Actress at the African World Film Festival. Theater credits: Kohl's Wild Theater (Milwaukee, WI), CLYBOURNE PARK (Westchester Playhouse, Los Angeles, CA) Television credits: LAST RESORT, SCANDAL, THE GOOD PLACE, LOVE, FOR THE PEOPLE, NCIS, MARVEL'S AGENTS OF S.H.I.E.L.D, and GENERAL HOSPITAL. Film credits: MARVELOUS AND THE BLACK HOLE, HONEY BOY, DEANY BEAN IS DEAD, and IT HAPPENED ONE NIGHT (short). www.paulinnium.com
Ashley Oviedo (Cee) She/Her is a graduate of the University of Wisconsin Milwaukee, with a BFA in musical theater and minor in dance. Some of her recent credits include AIRNESS at Forward Theatre Company, RUDOLPH at First Stage, and 54 SINGS BARBIE at Feinstein's 54 Below. Some of her favorite roles include Beth in LITTLE WOMEN at Forte Theatre Company, Audrey in LITTLE SHOP OF HORROR Sat Skylight Music Theater, Miss Jenny in THE WHITLINGS with First Flight Theater Company, Cecily in BEING EARNEST at Skylight Music Theater, and Bonnie in BONNIE & CLYDE at UWM. She could not be more excited to be making her MCT debut with a piece as personal to her as this one!
Celia Mandela Rivera (Aye) She/Her is a Black Latinx/ Caribbean actress and director based in Los Angeles. She is ecstatic for her Milwaukee Chamber Theatre debut. In her work, she seeks to center and amplify Black & Brown voices and experiences. Some recent artistic work: MEASURE FOR MEASURE (Directing) at Art of Acting Studio, Rogue Artists Ensemble's LOVE NOTE(Acting) & Project Nongenue's reading of A TEMPEST(Directing), TIME OUT LA recommended, LOVE IS ANOTHER COUNTRY (as NeNe) through Coin & Ghost, Illyrian Players' FUCKING A (as Canary Mary). She's also worked with Antaeus Theatre, I AM A Theatre, Echo Theatre, Ensemble Studio, The Vagrancy and Skylight Theatre. Celia was also a National Finalist in the Acting Category at KCACTF. She is the Creator & Co-Founder of BLKLST and a Co-Author of the L.A. Anti-Racist Theatre Standards (LA ARTS). Both aim to hold Los Angeles-based theatre companies accountable to the larger BIPOC theatre community and aim to create a systemic shift that centers equitable practices and norms. She worked at Geffen Playhouse for nearly 6 years as their Community Engagement Coordinator and Teaching Artist, was Skylight Theatre's Artistic Associate, and is currently IAMA Theatre Company's Literary Manager. B.A. USC's School of Dramatic Arts. IG @CeliaMandela @BLKLST_LA
Patrice Amon (Director) She/Her is a director, producer, scholar, and leader. Directing: A Skeptic and a Bruja (Urbanite Theatre) Group! The Musical (Passage Theatre) Hoopla! (La Jolla Playhouse POP Tour) Azul (Diversionary Theatre) Mojada (UCSD) A Zoom of One's Own (CSUSM) Ich Bin Ein Berliner (Theatre Lab) DREAMHOU$E (CSUSM/TuYo Theatre) Fade (Moxie Theatre), The Madres (Moxie Theatre) Lydia (Brown Bag Theatre Company). Dramaturg: Manifest Destinitis (San Diego Rep), Beachtown (San Diego Rep). Patrice was a 2020 National Directing Fellow, and an Associate Artistic Director at San Diego Repertory Theatre. She is currently a LTC Steering Committee member, and a board member for NNPN. Patrice is an assistant professor at CSUSM. JD: California Western School of Law. PhD: UC Irvine. www. Mariapatriceamon.com
Nicole Acosta (HOOPS Project Originator) She/Her born and raised in Milwaukee, WI, is a first-generation multi-disciplinary Mexican artist. Whether through visual art, written word or photography-most of Nicole's work reflects the exploration of identity, experience, place, culture, and storytelling. Nicole holds a Bachelor of Arts in Marketing Management from Alverno College and is a proud graduate of the Milwaukee High School of The Arts, and prior to her transfer to Alverno, spent years at Milwaukee Institute of Art and Design and Milwaukee Area Technical College studying photography. Nicole is a member of LUNA (Latinas Unidas eN Las Artes) an artist collective based in Milwaukee, WI. Her HOOPS Project is being nationally recognized and her current focus. Hoopsproject.co | IG @ atsocanic
Eliana Pipes (Playwright) She/Her is a writer, filmmaker, and performer. Her plays include DREAM HOU$E (world premiere coproduction: Alliance Theater, Long Wharf Theater, and Baltimore Center Stage, published at Concord Samuel French), BITE ME (South Coast Repertory Pacific Playwright's Festival, NNPN National New Play Showcase), COWBOY AND THE MOON (Dramatists Guild Foundation Fellowship, NNPN MFA Playwright's Workshop), UNF*CKWITHABLE (Old Globe New Voices Festival, Drama League Director Fest), LORENA: A TABLOID EPIC (New York Theatre Workshop Dartmouth Residency, The Playwright's Realm Scratchpad Series), STAND AND WAIT (The Fire This Time Festival). She's been awarded the KCACTF Harold & Mimi Steinberg Award, Leah Ryan Prize, National Latine Playwright Award, Floyd Gaffney Playwriting Prize and more. As a filmmaker she won the Academy Gold Fellowship for Women through the Academy of Motion Picture Arts and Sciences, the WAVE Grant, and Outfest x Colin Higgins Youth Filmmaker Award. BA Columbia University, MFA Playwriting Boston University. www.elianapipes.com
Britney "B~Free" Freeman-Farr (Composer) She/Her is a singer, producer, content creator and multi-instrumentalist who has dedicated her life to the arts. Born in Chicago, IL, and raised in Milwaukee, WI, her training in flute, voice and piano has earned her degrees in musical studies, along with a vast career in music performance, curation and education. Her work with MCT began with the composition and performance of an original piece for the inaugural season of the Milwaukee Black Theater Festival. Along with an artistic career of nearly two decades, she also serves as the Music Ed Coordinator for Radio Milwaukee's Youth Program, "Grace Weber's Music Lab." Previous professional credits include Alverno Presents MJ UNCOVERED (Curator, Director and Performer); Marcus Center for Performing Arts 2020 Film Project (Composer and Performer); and a score of original compositions through music singles, videos and two full-length, self-produced albums. Check out more: @ bfree2music/ bfree2music.com
Madelyn Yee (Scenic and Properties Design) She/Her Madelyn is a Milwaukee-based freelance scenic and props designer and is so pleased to be working on HOOPS. Prop designer credits for Chamber include WHERE DID WE SIT ON THE BUS?, MISERY, DOUBT, FRANKIE AND JOHNNY, GREAT EXPECTATIONS, LOBBY HERO, and A LOVELY SUNDAY FOR CREVE COEUR. Recent scenic credits include THE HOW AND THE WHY (Renaissance Theaterworks), BIRDS OF NORTH AMERICA (Third Avenue PlayWorks), ZARZUELA: LUISA FERNANDA (Florentine Opera), THE GIFT OF THE MAGI (American Players Theatre), and scenic and projections for INDECENT (Milwaukee Chamber). During the summers she acts as APT's Associate Scenic Designer. Many thanks to Lisa, Joe and Poesy.
Peter Clare (Sound Design) They/Them is a multidisciplinary theatre artist and musician based in Chicago. They are delighted to be back at Milwaukee Chamber Theatre after designing for THE ISLAND last season. Select sound design and music credits include STARLINGS by Ben Daniel Parman (Soulstice Theatre), THE DUMB WAITER (The Alchemist Theatre), THE NAUTICAL TRAGEDY OF DICK III (Quasimondo Physical Theatre), QUALITY STREET (Acacia Theatre), MEDEA (Voices Found Repertory), NATURAL SHOCKS (Third Avenue Playhouse/Next Act Theatre), AMERICAN SON (Fleetwood-Jourdain Theatre), ROUTES and ANNA IN THE TROPICS (Remy Bumppo Theatre). Their work will also be heard later this season in MCT's production of THE MOUNTAINTOP. Love and thanks to Kelsey, Sky, Erin, Jennifer, Ben, and their family at Zao MKE.
Ellie Rabinowitz (Lighting Design) She/Her (lighting design) Ellie has enjoyed a varied career in lighting, working in everything from animation to dance, fine art to music, teaching, and of course theater. Though a Milwaukee native, her work has been BIOGRAPHIES c o n t. 8 Milwaukee Chamber Theatre presented across the US, eastern Europe, France, Italy, and Mexico. In Milwaukee, productions include 5 seasons as resident lighting designer for UW-Milwaukee's dance department, as well as 3 seasons for The Constructivists. Previous designs for MCT are THE WAY SHE SPOKE and THE ISLAND. During the summer she's most likely to be found herding metaphorical cats as one of Wisconsin's three regional contacts for Burning Man.
Kyndal Johnson (Costume Design) She/Her is a professional creative. She ventures in the art of singing, songwriting, fashion, and creative directing. She combines her many talents with confidence and style, curating a complete experience. Kyndal J. works heavily curating fashion experiences with theater companies such BIOGRAPHIES (IN ALPHABETICAL ORDER) HOOPS 7 as Black Arts MKE, Milwaukee Chamber Theater and magazines such as CopyWrite Magazine. Through her diverse creative avenues, she has also helped develop projects with artists and companies such as Wolf Studio's, R&B singer B~free, and Milwaukee's Bronzeville Week. Kyndal continues to use her creativity to help develop Milwaukee's growing creative scene.
Emily Marie Wilke (Stage Manager) She/Her Emily Marie Wilke is thrilled to be making her MCT debut! Her Milwaukee credits include Milwaukee Repertory Theatre (BEEHIVE: THE 60S MUSICAL), First Stage Children's Theatre (THE LAST STOP ON MARKET STREET and THE LEGEND OF ROCK PAPER SCISSORS), Skylight Music Theatre (ERNEST SHACKLETON LOVES ME). Regional credits include Utah Shakespeare Festival, Arizona Theatre Company, Flux Theatre Ensemble, and Revival Theatre Company.
Sydney Smith (Assistant Stage Manager) She/Her is thrilled to be returning to Milwaukee Chamber Theatre for HOOPS! Sydney just came off COST OF LIVING at Renaissance Theaterworks and was recently the production assistant on THE NATIVITY VARIATIONS at Milwaukee Repertory Theatre. In the past, Sydney has worked with Milwaukee Chamber Theatre as the assistant stage manager on WHERE DID WE SIT ON THE BUS?, THE ISLAND, INDECENT, THE THANKSGIVING PLAY, and SHERLOCK HOLMES AND THE CASE OF THE JERSEY LILY.
Find more press releases HERE.