sun31oct6:00 pmCata-Tonic Zombie Madness6:00 pm Tonic Tavern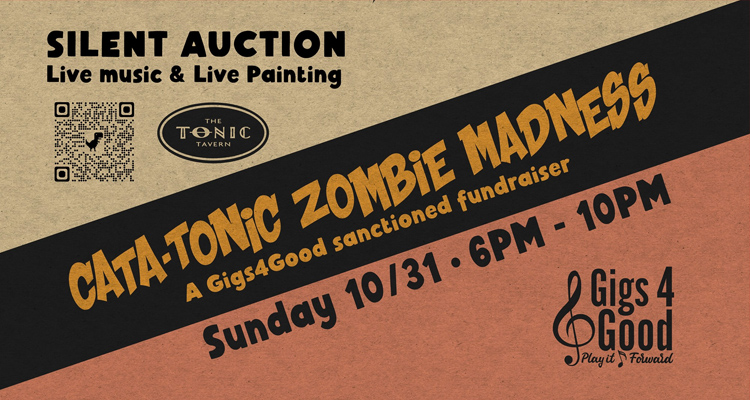 Event Details

"Are you ready for Bayview's Best Halloween Bash? Click on "Find Tickets" to get in on our spooktacular silent auction!!!
"CATA-TONIC ZOMBIE MADNESS",
 which is part of our Gigs4Good benefit series, this Halloween Night
, Sunday 6pm-10pm."
Killer Bands 
-Honolulu Millionaires (Space-Age Bachelor Pad Exotics)
-Breadmen (Jazz Between Fusion and Hard Bop)
-Dick Satan Trio (The Godfathers of Instrumental Playboy Rock)
-Half Gram Banana (Heavy Instro-Desert Rock)
-Mechanical Life Vein (Live Video Game Soundtracks)
Dead Silent Auction 
Goes live on Oct. 23rd at 12pm and ends at 9pm on Oct. 31st.
Scan QR code or hit the ticket button to start bidding!
Live Painting by bloody good artists 
-Ruben Alcantar & Chris Burke 6pm-9pm, (Each live painting is part of the Silent Auction!!!)
Costumes encouraged 
"Gigs 4 Good" is our music series where we've teamed up with local artists to "Play it Forward!" to help our two non-profit partners with their missions!
Tonic Tavern2335 S. Kinnickinnic Ave.