Some places come and go, while some places become icons. Mandatory Milwaukee is all about the latter. Join us as we revisit beloved and well-worn local staples with fresh eyes, and explore how they might figure in the city's future. This week: Shorewood's Atwater Beach!
If you're looking for the full summertime beach experience in Milwaukee, look no further than Bradford Beach. The sprawling urban beach is stocked with all the food, volleyball, and contentious beach houses you could ask for. But travel two miles north—to the ever-bustling burg of Shorewood—and you'll find a public beach that's simultaneously more modest and more majestic than Bradford.
Yes, Atwater Beach is a glistening, beach-tastic gem, a gorgeous slice of sand and nature and sun. Plus, the water must be a little better than the water at Bradford, because more people actually swim here.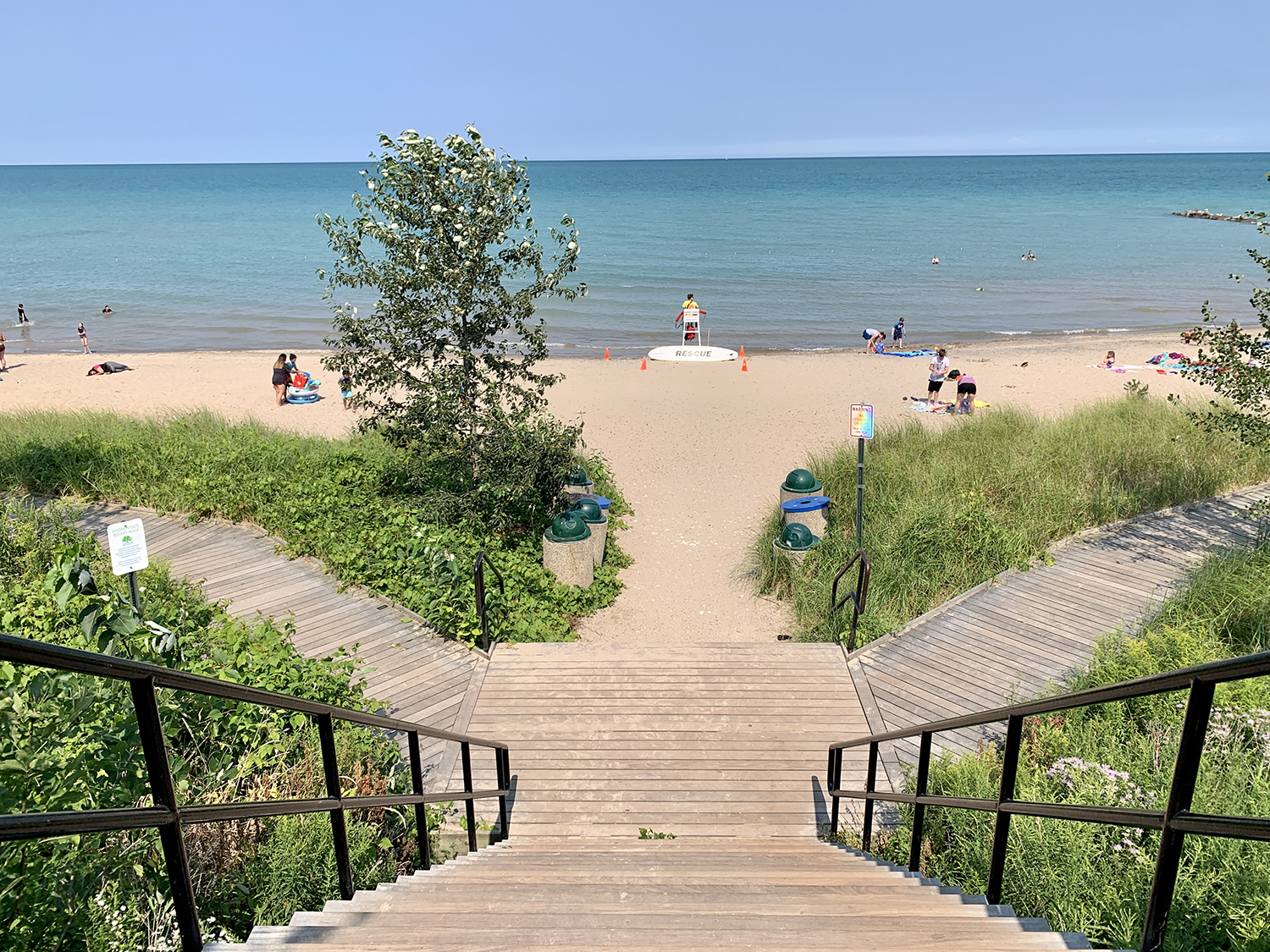 Located at 4000 N. Lake Dr., Atwater is more than just a beach. You're first greeted by Atwater Park, a five-acre plot of land complete with plenty of room to relax, a playground for the kids, and a once-contentious structure of its own. Parking along Lake Drive can be a little hairy, so expect to walk a few blocks—or, better yet, just take the MCTS Red Line (if you're coming from the south), which gets you to nearby Downer and Capitol.
Not that you can simply dive into the water from your car. Atwater Park is perched atop a steep bluff, and the beach is located at the bottom of that bluff. But, you see, that's where the magic happens. Walking down to the beach is almost as enjoyable as laying out on it.
You have two options. You can hope your vertigo doesn't kick in and walk down the loooong set of stairs (we counted about 130 on a recent visit)…
…or you can take the scenic route—a.k.a. a paved path that slowly snakes its way down the bluff. Let's do that now!
Yep, if you're looking to take in a bit of nature before hitting the beach, this is the way to go. Swamp milkweed! Butterfly weed! Black-eyed Susans! More than 3,000 native plants, trees, and shrubs! And oh yeah: in 2015, the area was designated as a monarch butterfly waystation! (More on nature in a bit.)
And then there's the beach itself. Approximately 800 feet of sandy shoreline is bookended by two partially sunken piers. (STAY OFF PIER, multiple signs warn.) A spiffy boardwalk provides a way to get around without getting sand in your shoes, and offers a few places to sit in the shade or lay out in the sun. Another kiddie playground is tucked into the north corner. For this year, at least, there are lifeguards. The folks in the sand and/or water, meanwhile, are a perfectly diverse group of Milwaukeeans and Shorewoodians (?). It's glorious.
Did we mention there's an HONEST TO GOD SHIPWRECK A MERE 150 YARDS OFF SHORE, IN 15 TO 20 FEET OF WATER? Because there totally is. A wooden bulk steamer known as the Appomattox ran aground off Atwater Beach on November 2, 1905. Two other vessels ran aground with it, though those ships were eventually freed; the badly damaged Appomattox was abandoned on November 15. Today, large chunks of the ship's bilge, keel, and port-side hull remain intact.
So what makes Atwater Beach so special? You know, other than the shipwreck. A sign at the park explains some of the beach's history:
Atwater Beach first became a destination in 1916 with construction of a staircase to the beach. A dressing house and pier were built shortly after. In 1932, three jetties were built to capture sand and create Atwater's beach. The dressing house was replaced in 1938 with [a] pavilion, complete with bathrooms, showers, cafe and seating on the roof. Atwater became even more popular between 1967 and 1977 when a tram was built to carry beachgoers up and down the bluff. Rising lake levels and maintenance concerns led to the pavilion's demolition in 1987.
Watching various John Gurda documentaries on Milwaukee's history with water, it's easy to romanticize a faraway time when the lakefront was stuffed with amusement parks, attractions, tons of people, and, apparently, bluff-scaling trams. But Atwater Beach is a perfect example of a "back to nature" approach to creating and maintaining public spaces. The sign continues:
After a heavy rainstorm and bluff collapse in 2010, we learned that "going wild" is better for both people and wildlife. Natural features like native plants and shrubs help stabilize and protect the bluff from stormwater damage. The new boardwalks allow for better access to the beach and provide views of the sand dunes and native grasses. Atwater Beach is again a popular and enjoyable recreation destination.
Indeed, Atwater Beach is an enjoyable recreation destination. It's unassuming but gorgeous, relatively modest but handsomely presented. Summer is short, Milwaukee. Make Atwater Beach a part of it.
And have fun walking back up those stairs.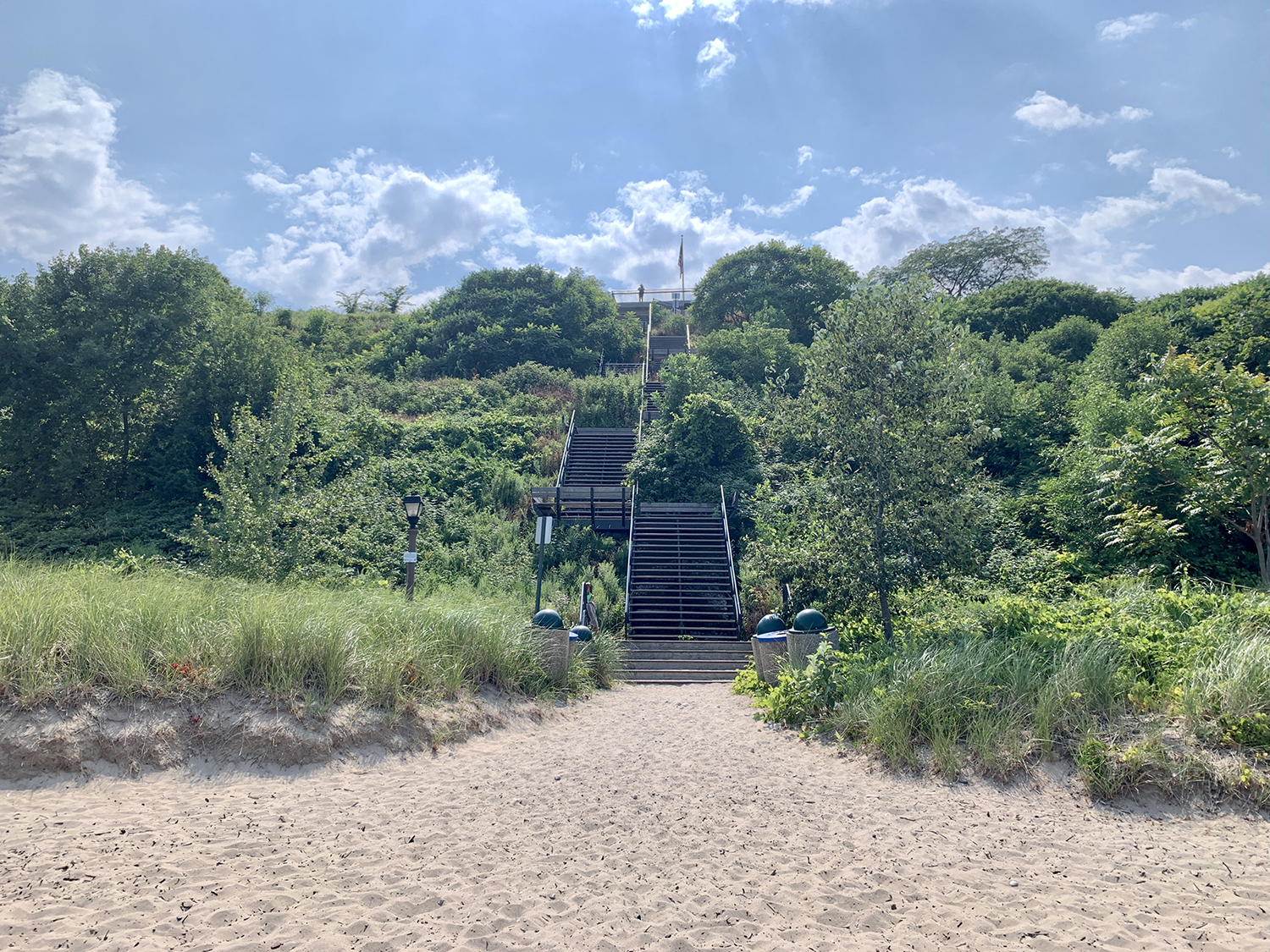 Exclusive articles, podcasts, and more. Support Milwaukee Record on Patreon.
---
RELATED ARTICLES